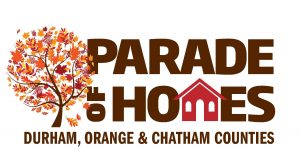 Thinking about a new home, or just love to see new ideas and design trends? Then the Triangle Parade of Homes is where you can explore the newest homes and communities, discover a builder or floor plan, or just find inspiration in the latest home decor and technology.
Now in its 38th year, the 2021 Parade of Homes will be held over the next three weekends: October 2-3, 8-10 & 15-17, 2021 from Noon-5pm each day.
This exciting event enables builders to enjoy some friendly competition, as each home on the Parade is judged by a panel of industry representatives from other markets in our region. These judges examine the design, quality, and creativity that each entry demonstrates, resulting in a numerical grade for each house. Awards are given to homes that achieve the highest scores in each price category.
This is a free, self-guided tour showcasing the latest designs and technology trends being used today. Of the 126 homes in 73 communities from 64 builders on Parade this year, 20 homes are being built in Chapel Hill & Pittsboro, but not all are available for viewing – so be sure to check the website before heading out.
To pick up a copy of the 2021 tour book, please stop by Homes By Dickerson's "Uptown Funk" entry in Briar Chapel, located at 1354 Briar Chapel Pkwy, Chapel Hill, NC 27516.
Parade homes are highly sought-after showcase homes, due to the "extras" builders include in them in an attempt to win gold. Likewise, winning Parade homes tend to attract extra attention when it comes time for resale.
If you are interested in purchasing a Parade home, please contact Jen Winkler at
919-593-3662
.